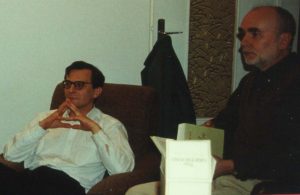 Z Adamem ZAGAJEWSKIM rozmawia Maciej NIEMIEC
Adam Zagajewski – urodzony 21 czerwca 1945 roku we Lwowie. Dzieciństwo spędził w Gliwicach. Studiował psychologię i filozofię na Uniwersytecie Jagiellońskim. Pracował jako asystent w Akademii Górniczo-Hutniczej w Krakowie oraz jako wykładowca krakowskiej Państwowej Wyższej Szkoły Teatralnej. Był członkiem redakcji "Studenta i Odry", od 1983 do zamknięcia pisma w 2018 roku należał do zespołu redakcyjnego "Zeszytów Literackich". Przez wiele lat, od grudnia 1982 roku, mieszkał we Francji. Jednocześnie, od 1991 roku, był wykładowcą University of Houston. Ma w swoim dorobku kilkanaście tomów poetyckich, z których najważniejsze to: Komunikat (1972), Sklepy mięsne (1975), List. Oda do wielości (1983), Jechać do Lwowa i inne wiersze (1985), Płótno (1990), Ziemia ognista (1994), Pragnienie (1999), Powrót (2003), Anteny (2005), Asymetria (2014), Prawdziwe życie (2019). Należy do najczęściej tłumaczonych polskich autorów współczesnych. Od 2002 roku mieszkał w Krakowie. Zmarł 21 marca 2021 roku.
 – Jest sierpień, czas wakacji, jednak zdaje się, że pisanie, podobnie jak pobożność, nie podlega przymusowi pory wakacyjnej. Czy czasem robisz sobie "wakacje odpisania"?
 – Ja nigdy nie robię sobie wakacji od pisania, niestety, pisanie bardzo często robi sobie wakacje ode mnie, o wiele częściej niżbym sobie tego życzył. Zwłaszcza może w lecie.
– Pamiętam istotną w Twoich wcześniejszych książkach eseistycznych kategorię zbiorowości. Czy obecnie poczuwasz się do przynależności wobec jakiejś zbiorowości – społecznej, pokoleniowej?
 – Mniej niż poprzednio. Przede wszystkim czuję się po prostu człowiekiem. Socjologia interesuje mnie coraz mniej. Wciąż jednak czuję się Polakiem – jestem dumny, wstydzę się, przedstawiam się, mówię, myślę i piszę po polsku, czytam polskich poetów, polska literatura jest moim miejscem.
– Na czym polega ta przynależność? Czy nie jest obecnie bardziej estetyczna niż etyczna?
– I ty także chcesz zrobić ze mnie estetę! Nie jestem estetą. Odnoszę wrażenie, że czasem estetą nazywa się każdego, kto dba o to, by nie popełniać w prozie czy poezji błędów gramatycznych czy stylistycznych.
– Czy kategorię zbiorowości może zastąpić – niemieszczący się w prostych schematach – świat?
 – Poezja nie jest filozofią i nie musi być ciągnięta przez jedną, naczelną kategorię – lokomotywę. Dla mnie pisanie było także procesem wyrastania z niewoli, z totalitaryzmu, z ignorancji; gdy byłem młody wierzyłem w pokolenie. Takie rzeczy rozpadają się, jak stare dekoracje teatralne. Czy są rzeczywiste? Do pewnego stopnia tylko. Oczywiście, że pokolenia istnieją. Ale po jakimś czasie liczy się najbardziej to, czego się szuka i co trudno kategoryzować, gdyż byłoby to zaprzestaniem poszukiwań. A nie można szukać pokolenia. Do pokolenia się należy. Ryby latające nie szukają morza, mają go pod dostatkiem.
– Zawarty w książce Solidarność i samotność program wyzwolenia wyobraźni wydaje mi się wyczerpywać, zamykać w doznaniu konkretności świata, zapisanym w wielu wierszach z twego ostatniego tomu Płótno, w takich stwierdzeniach jak: "Świat jest zbyt materialny, gęsty, tożsamy…" Czy jest miejsce dla wyobraźni w tak opisanym świecie?
– Po pierwsze nie lubię słowa "program". To też polska właściwość – czytać każdy esej jak manifest. Spokojnie, spokojnie. Program to jest coś, co się widzi po latach. Et encore… – jak mówią Francuzi. Program wyzwolenia wyobraźni – nie, to nie jest mój zamysł. Nie jestem surrealistą. Po drugie, świat, owszem, interesuje mnie, ale jeszcze bardziej zajmuje mnie to, co jest śladem boskości w świecie. Mówię o tym nieśmiało i niemal niechętnie, wobec klerykalizacji życia umysłowego w Polsce, gdzie co drugi krytyk literacki posługuje się żetonem nihilizmu, jakby już wstępnie próbując wskazywać kandydatów do mąk piekielnych. Arogancja urzędowego katolicyzmu w kraju nie ułatwia życia komuś, dla kogo religijność jest wyprowadzona z przeżyć "prywatnych", intymnych i kto nie ma zamiaru uzgadniać swoich prac z księdzem proboszczem. Pod tym względem sytuacja stała się właściwie trudniejsza niż dawniej, gdy komunizm szczycił się swoim dziewiętnastowiecznym jeszcze ateizmem. Słyszę, że w Polsce jednym z najbardziej wziętych autorów dramatycznych jest Molier. Znowu ludzie chcą się śmiać ze Świętoszka. To, oczywiście, poziom socjologiczny, ale towarzyszy temu także generalna słabość krytyki literackiej, czy w ogóle zachwianie norm intelektualnych, niepewność – w końcu zostaniemy znowu wciągnięci w przebrzmiałe kampanie publicystyczne à la Boy i Irena Krzywicka.
– Powróćmy do sprawy wyobraźni. Możliwe są bardzo różne jej określenia, William Blake pisał, że jest boską mocą twórczą, zaś Simone Weil, że złudzeniem oddalającym od rzeczywistości. Jakie jest twoje określenie wyobraźni?
– Simone Weil sytuuje się w tradycji Pascala, a dla Pascala, jak wiadomo, wyobraźnia jest narzędziem naszego próżnego ja i przez to odciąga nas od jedynego wartościowego zajęcia, od religijnej medytacji. Moje określenie wyobraźni? Na wiosnę tego roku prowadziłem z moimi studentami w Houston seminarium, którego hasłem wywoławczym była wyobraźnia. Bardzo mnie interesuje pytanie, czym jest wyobraźnia. Im więcej myślę o wyobraźni, im bardziej zachłannie wertuję książki o wyobraźni, tym mniej wiem, czym ona jest. Dochodzę powoli do wniosku, iż wyobraźnia jest nazwą zastępczą, którą przylepiamy tam, gdzie zawodzą nas inne definicje. Starożytni doskonale obywali się bez pojęcia wyobraźni, a w każdym razie nie posługiwali się tym słowem w jego współczesnym znaczeniu. Tymczasem nie można powiedzieć by brakowało im wyobraźni artystycznej. Najwyraźniej można tworzyć wielkie dzieła nie wiedząc wcale, iż istnieje wyobraźnia. Zapewne fakt, iż czasy nowożytne rozwinęły pojęcie wyobraźni wiąże się z tym, że i sztuka, i religia znalazły się w defensywie i trzeba było znaleźć dla nich mentalne terytorium różne od domeny wyemancypowanego rozumu. W Ameryce teraz nie wypada na przykład mówić o "życiu duchowym", bo to brzmi nadto parafialnie, ale "wyobraźnia" jest akceptowana jako "coś innego". I w tym jest coś z gestu obronnego – nazwę to "wyobraźnią'" i dzięki temu nie stracę prestiżu społecznego. Surrealiści wydęli i przez to nieomal zabili pojęcie wyobraźni. Może więc naprawdę wyrządziło by się przysługę wyobraźni nie nadużywając tego pojęcia. W poezji idzie o szukanie prawdy, nie o fantazjowanie.
– Pytanie, które mnie samego czasem trapi – czy na pewno "Lwów jest wszędzie?" Czy na pewno wszędzie, lub w ogóle gdzieś można odnaleźć choćby w części, rozproszony, podstawowy krajobraz, który nas ukształtował? To dotyczy oczywiście tych, którzy go utracili. W tym wspaniałym stwierdzeniu, "Lwów jest wszędzie", otwierającym jakby wszystkie krajobrazy, zawsze było – pozwól że to jednak powiem – ziarno nihilizmu: wszędzie, więc nigdzie. Czy od czasu napisania tamtego wiersza to ziarno urosło? 
– I ty lubisz straszak nihilizmu. "Lwów jest wszędzie" – to zdanie zamykające wiersz, należące do wiersza w sposób bardzo organiczny, ścisły. Nie mnie analizować moje własne wiersze. Uważam to i za pretensjonalne, i poznawczo chybione, żeby autor sam odczytywał swoje wiersze. Żeby więc przynajmniej krótko odpowiedzieć: dla mnie to zdanie – na planie poniekąd "ideologicznym", na którym ty je usytuowałeś – oznacza co innego. Wcale nie gest mówiący – ach, wszystko jedno gdzie i co, możecie jechać do Nowej Zelandii, dajcie sobie spokój z regionalizmem i przywiązaniem do waszych śmiesznych małych ojczyzn. Ja moją małą ojczyznę utraciłem, nie z mojej winy i nie z mojego wyboru. Dla mnie więc to zdanie mówi (między innymi): patrz wstecz, tak, ale daj sobie możliwość życia. Żyj. Zachowaj wierność wobec własnej przeszłości, ale żyj. Oglądaj się wstecz, czerp siłę z tego oglądania się wstecz, ale nie pogrążaj się w rozpaczy, spróbuj tę stratę odżałować, odbądź żałobę, ale żyj, spróbuj przynajmniej. A co do nihilizmu to istotnie uważam, że jest to modna armata, przy pomocy, której strzela się teraz do wróbli i do turkawek. Ja czuję się jak najdalszy od nihilizmu. A to, że stronie od jednoznacznych deklaracji ideowych, że raczej szukam niż znajduję – jeżeli to ma być nihilizm, dobrze, to jestem nihilistą. Lepiej w takim razie być "nihilistą" niż pieczeniarzem schlebiającym aktualnej koniunkturze.
– Czy wykorzenienie służy Twojej sztuce? 
– Gdybym był wykorzeniony, byłbym w stanie odpowiedzieć na to pytanie. Nie czuję się wcale wykorzeniony, nawet w sensie, w jakim pojęciem wykorzenienia posługiwał się Maurice Barrès. Mieszkam od dziesięciu lat pod Paryżem, wiosną jeżdżę do Teksasu, ale w głębszym sensie nie przestałem przynależeć do tradycji polskiej poezji. Czy Czapski był wykorzeniony? Nie trzeba zakorzenienie rozumieć mechanicznie. Można by się zastanawiać nad czymś trochę innym: co powoduje sam fakt mieszkania za granicą u kogoś, kto właśnie nie jest wykorzeniony, jakie napięcie powstaje wtedy, jak się odbiera cudzą kulturę i czy to wywiera jakikolwiek wpływ na sposób odczuwania i myślenia. Gdybym wiedział, co służy mojej sztuce, a co nie, na pewno utrzymywałbym to w tajemnicy. Może nawet przed sobą.
Paryż, 19 sierpnia 1993 roku
"Nasza Rodzina", nr 11 (590) 1993, s. 22-23.